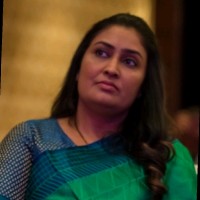 The last 18 months have been Covid-19 effected. For the first time in our lives we experienced a global lockdown. People lost their near and dears, lost jobs, migration of labours, no beds in hospitals, oxygen scarcity commuting issues and so on, but against all odds humanity won. We saw the entire medical fraternity working day in and out, doing their best to save lives, all the forces were maintaining law, and people going an extra mile helping each other to overcome this pandemic. Slowly we are starting to see a silver lining in the horizon as we return to NORMAL. We, at IANT, salute all these people from the core of our hearts, especially the people from IT sector who kept moving this entire world and teachers/trainers, who first learned to conduct on-line classes and then made sure that the students pass their terms.
Couple of years back, parents were reluctant to provide a mobile to their kids. Mobile was a strict NO in schools. Today, all the classes are being conducted on-line. Just think of the situation, you are at home and cannot go out. What about your daily needs, your studies, your entertainment and payments? Just get connected to the internet and start accessing apps and services on mobile, laptops, PC etc. Yes, you could do all these because of IT. The IT sector saw a boom during this period and will go further in the coming years.
Do you know what EdTech is? Education delivered through Technology. Do you know the India EdTech market size? By 2025 the India EdTech market size will be USD 30 billion. 25-30% of EdTech market depends on TechEd (Technology Education) i.e. IT Education. By 2025 there will be 2 Crore jobs in the IT industry including the organized and un-organized India TechEd market of USD 10 Billion. The Government of India has already initiated IT literacy drive by Introducing NEP (National Education Policy) 2020 with a focus on Technology Training and create 21st Century IT workforce. Coding, Python, IT Essentials, Robotics, AI have been introduced from Class 5th to class 12th.
IANT, the leader in IT Training, sensed this opportunity and taken the initiative to lead the TechEd sector. We developed "I-Tech", a course based on STEM Model with core focus on IT Fundamentals and Cyber Security on a 100% Online Skills Platform to target ~ 155 Million students of class 6th-12th across India. To execute this audacious goal will partner with Micro Entrepreneurs. In the next two years, we plan to target 25,000 Digital Franchisees across India.
This year we have launched "Nayee Dishayein" (New Direction) a career course with focus on Self-Enrichment and Scenario based practical. This course is open for students of class 10th, 12th, Undergraduates and graduates in B.A., B.Com., Engineering students and Professionals. With this we are the First IT Training Company, globally, to offer Coding in a Hardware and Networking Curriculum
New Technologies are the order of the day and they are continuously creating a positive disruption in the IT ecosystem. The IT Industry says, "There are plenty of jobs but there is a dearth of skilled workforce." I personally believe that new technologies propel efficiency with a constant need for workforce to upskill and reskill themselves.
IANT, with 22 years of experience plays has a strong focus on student "Employability". We are not just looking at placing the student for a job, but training the student 360o with technologies, scenario based practical, self-enrichment, assignments and projects, to acquire knowledge, skills and Global Certifications. It will make the student "Career Ready" and an "Employable" resource from day one for any organization.
IANT offers Global Certifications at World's lowest price. Students can take benefit of global certifications offered by IANT. Our Partnerships with Star Certification, CompTIA and Red Hat have grown by leaps and bounds and we continue to add latest courses and certifications in our portfolio on a periodic basis. I would encourage you to take optimum benefit of our pricing and enhance your "Certification Portfolio".
I would also like to thank all our students and parents for their trust and belief in us. It is your unwavering support, which has made IANT, what it is today. We have been in the IT Training spectrum for more than two decades but trust me, every day in IANT is a new and exciting day for me and my team.
A special thanks to our training and non-training staff for keeping their spirits high in this Covid-19 times and provide the quality services to our students.
"Education is the passport to the future, for tomorrow belongs to those who prepare for IT today" — Malcom X
Welcome to IANT!
I assure you the Best because you chose to be with the Best!